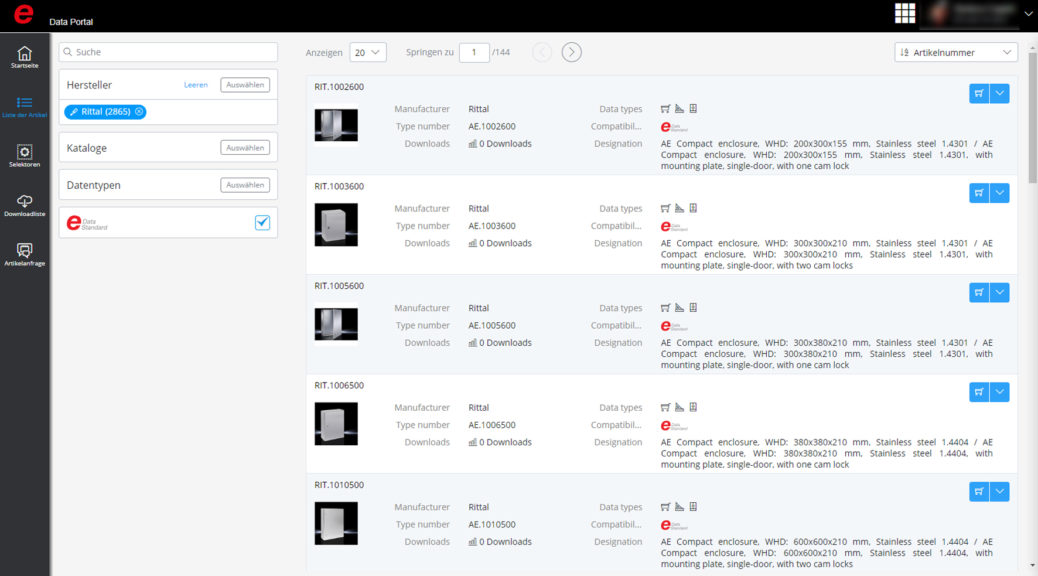 Eplan Sets New Data Standard in Control and Switchgear Construction
Eplan Sets New Data Standard in Control and Switchgear Construction
By implementing a new data standard, software solutions provider Eplan contributes to further simplifying control and switchgear construction. The new standard increases the quality of article and device data in Eplan Data Portal, a web service offeringproduct catalogues from numerous component manufacturers. Several thousand data sets – for instance from Rittal, leading provider of enclosure systems and IT infrastructure – are already available at this premium level, and additional well-known component manufacturers are working on providing data in line with this new standard.
Monheim, Germany, 22 November 2019: When control cabinets or switchgear systems are being designed in 3D, wire lengths automatically calculated, or mounting panels processed by machines, standardised component data are required. These data are also the foundation for the digital twin, which is becoming increasingly indispensable in the product life cycle. The new Eplan Data Standard defines the type of component data required to automate and simplify processes in (pre)planning, engineering, manufacturing and maintenance. Users of Eplan's engineering software solutions benefit from a significant increase in quality in Eplan Data Portal, which gives them direct online access to the product catalogues from numerous component manufacturers.
Currently, Eplan Data Portal has more than 239.000 users and offers data of more than 913.00 products from 286 manufacturers. All of the software solutions embedded in the Eplan Platform can access this web service. The simple transfer of the available component data into Eplan documentation is via drag and drop, which reduces the effort required in design and increases the quality of machine and plant documentation. Manufacturers are also being optimally supported – the Data Creation Tool based on eCl@ss Advanced offers them an import option that significantly simplifies data provision.
First data in the new standard already available
Several thousand updated component data, with a focus on manufacturing integration, are already available in the new Eplan Data Standard. This includes, for instance, a schematic macro, a 3D file and connection diagrams for typical electrical components. Rittal – sister company of Eplan in the Friedhelm Loh Group – is one of the pioneers in this and has already integrated initial data for control and switchgear systems as the standardisation of such systems is one of the central USPs of the company.
Renowned component manufacturers including ABB, IFM, LAPP, Phoenix Contact, Puls, SEW-Eurodrive, Siemens, Schneider Electric, Wago, Weidmüller, Wieland and others are already implementing the standard – they all recognised the need for comprehensive, standardised data early on. The optimised, standardised data sets can be used to create complete bills of materials or to reliably calculate the weight of the control cabinet using defined weight specifications as just two examples.
A practical example
Around five hundred connections must be laid for the control technology in an average control cabinet – all with different colours, cross-sections and wire processing. Preparing and wiring all of the connections manually requires an average of four minutes per wire, which takes too long to keep up with the competition. Modern production methods get prefabricated wires from machines, saving the effort and time required for manually cutting to length and assembly. But how does the machine know which individual connections exist? The answer lies in the digital twin of the control cabinet, in which all the components were selected in engineering, presented with their characteristics in the schematics and subsequently assembled in the control cabinet in 3D. The connection points and designations for the components are already described in the 3D layout. Using this component data, the electrical designer can output the colors, lengths and wiring targets for the connections with a mouse click and transfer them to the processing machine.
Find out more at: https://www.eplandataportal.de/en/edp/
EPLAN
EPLAN provides software and service solutions in the fields of electrical, automation and mechatronic engineering. The company develops one of the world's leading design software solutions for machine and panel builders. EPLAN is also the ideal partner to streamline challenging engineering processes.
Both standardised as well as customised interfaces to ERP and PLM/PDM systems ensure data consistency along the whole value chain. Working with EPLAN means boundless communication across all engineering disciplines. No matter whether small or large enterprises: Customers can apply their expertise more efficiently. EPLAN wants to grow further with customers and partners and pushes integration and automation in engineering forward. Worldwide, EPLAN supports over 55,000 customers. "Efficient engineering" is the focus.
EPLAN was founded in 1984 and is part of the owner-operated Friedhelm Loh Group. The Friedhelm Loh Group operates worldwide with 18 production sites and 80 international subsidiaries. The entire group employs 12,500 people and generated revenues of around €2,6 billion in 2018. For the eleventh time in succession, the family business has won the accolade "Top German Employer" in 2019. In addition Friedhelm Loh Group was recognized as "Top vocational trainer" according to a study of Deutschland Test and Focus Money.
For more information visit:
www.eplan.de and www.friedhelm-loh-group.com
Rittal
Rittal, headquartered in Herborn, Hesse, Germany, is a leading global provider of solutions for industrial enclosures, power distribution, climate control and IT infrastructure, as well as software and services. Rittal solutions can be found in more than 90 percent of all industrial sectors worldwide.
Systems made by Rittal are deployed across a variety of industrial and IT applications, including vertical sectors such as the transport industry, power generation, mechanical and plant engineering, IT and telecommunications. Rittal is active worldwide with 10,000 employees and 58 subsidiaries. Its broad product range includes infrastructure solutions for modular and energy-efficient data centres with innovative concepts for the security of physical data and systems. Leading software providers Eplan and Cideon complement the value chain, providing interdisciplinary engineering solutions, while Rittal Automation Systems offers automation systems for switchgear construction.
Founded in Herborn in 1961 and still run by its owner, Rittal is the largest company in the Friedhelm Loh Group. The Friedhelm Loh Group operates worldwide with 18 production sites and 80 international subsidiaries. The entire group employs 12,500 people and generated revenues of €2.6 billion in 2018. For the eleventh time in succession, the family business has won the accolade "Top German Employer" in 2019. A Germany-wide survey by Focus Money magazine named Friedhelm Loh Group as one of the nation's top companies in terms of vocational training for the fourth year running in 2019.
Further information can be found at www.rittal.com and www.friedhelm-loh-group.com.