Printing systems from PSi Laser in IBM system environments
Printing systems from PSi Laser in IBM system environments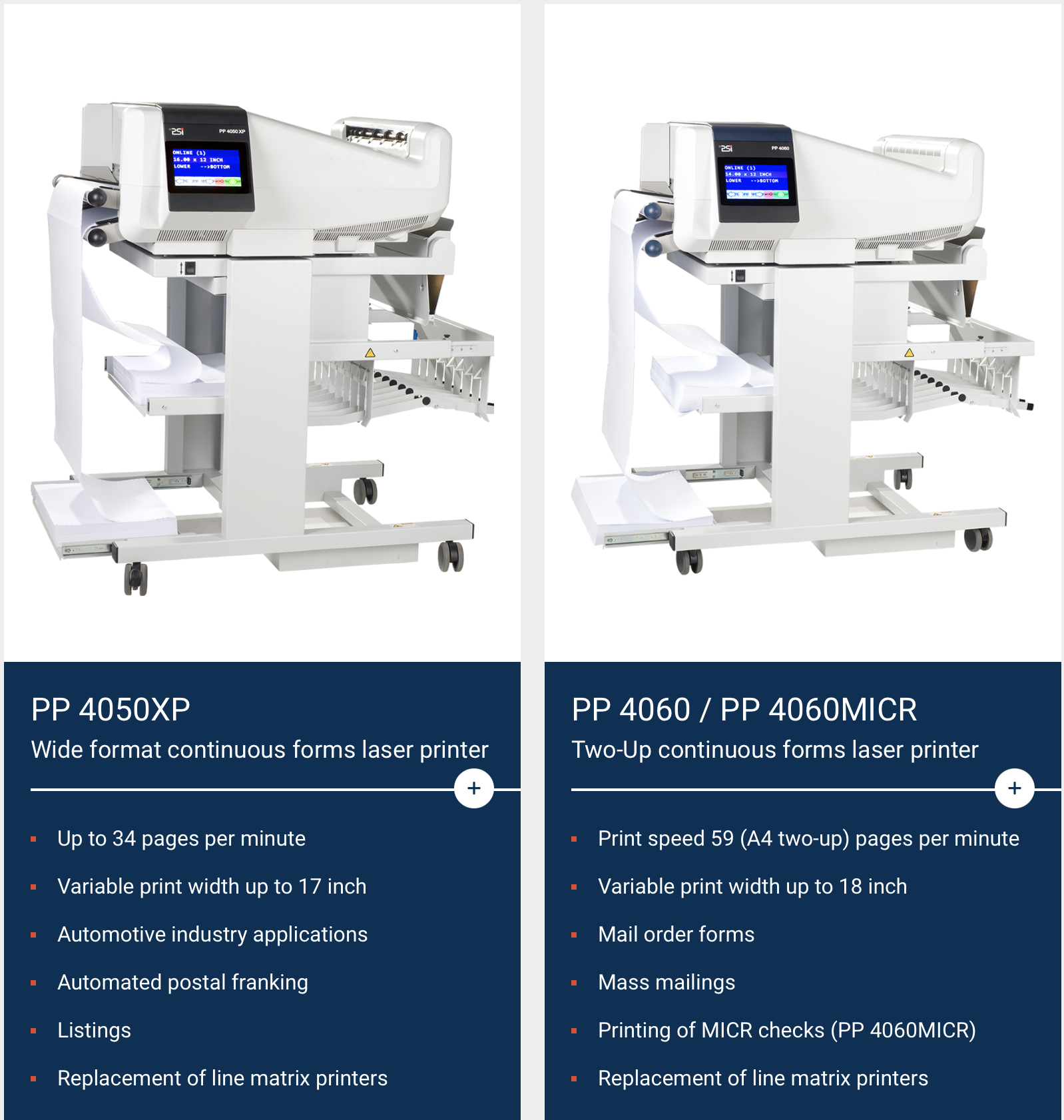 For years, consolidation has been taking place in the market for industrial continuous printing, which is particularly noticeable in the environment of IPDS and AFP print data streams from IBM systems. Users are often faced with the problem of not being offered any successor solutions for such printing systems.
Currently, there is also a trend that maintenance and service for continuous printing systems are discontinued or their spare parts supply can no longer be guaranteed. In addition, it is increasingly the case that large continuous printing systems are no longer utilized to capacity as a result of reduced print volumes and the maintenance costs often exceed the benefit of the devices.
PSi Laser GmbH has worked for many years with its development team on alternative solutions to this problem. Today PSi Laser can offer the user the possibility to output his print data on PSi Laser printing systems without any change of the print data stream.
Printing systems of PSi Laser GmbH work with special software solutions and can output all print jobs of industrial continuous printing from the IBM environment in the data streams IPDS/AFP with one printer in an optimal print quality with 600 dpi print resolution.
The continuous form printers of PSi Laser GmbH are exactly the right solution. Instead of an expensive conversion of the IT infrastructure of hardware and software, the printing systems of PSi Laser seamlessly replace the previous printing equipment. In addition, the PSi printing systems with 600dpi and a paper width of up to 18 inches offer an optimal complement to the previously installed printers.
With significantly lower power consumption and space requirements, as well as two user-changeable tractors and an integrated forms cutter, the PSi printers have significant added value at a fraction of the previous cost.
All of this is done without requiring the user to change their previous way of working. The IPDS or AFP data streams used from existing IBM® Infoprint 3000, IBM® Infoprint 4000, IBM® Infoprint 6500, IBM® Infoprint 100, IBM® Infoprint 75, OCE® Variostream systems remain untouched and the user's existing workflows remain unchanged.
PSi Laser enables these users to continue printing on continuous form laser printers with the same print data as before and, in the case of replacing IPDS line printers, to additionally improve the print quality.
Of course PSi Laser can support the users and accompany them during the transition and commissioning until the PSi Laser printers are fully integrated into the existing infrastructure.
The customer should concentrate on what is important to him and PSi Laser takes over the solution of his printing problems.
Especially against this background customers appreciate the long experience and pragmatism of PSi Laser GmbH. IPDS/AFP data can be output one by one on PSi Laser printing systems without the customer having to change anything in his data.
PSi Laser is looking forward to being contacted by interested parties at sales@psi-laser.de.