Rohde & Schwarz announces new IEEE 802.3ch MultiGBASE-T1 Automotive Ethernet standard compliance test solution
Rohde & Schwarz announces new IEEE 802.3ch MultiGBASE-T1 Automotive Ethernet standard compliance test solution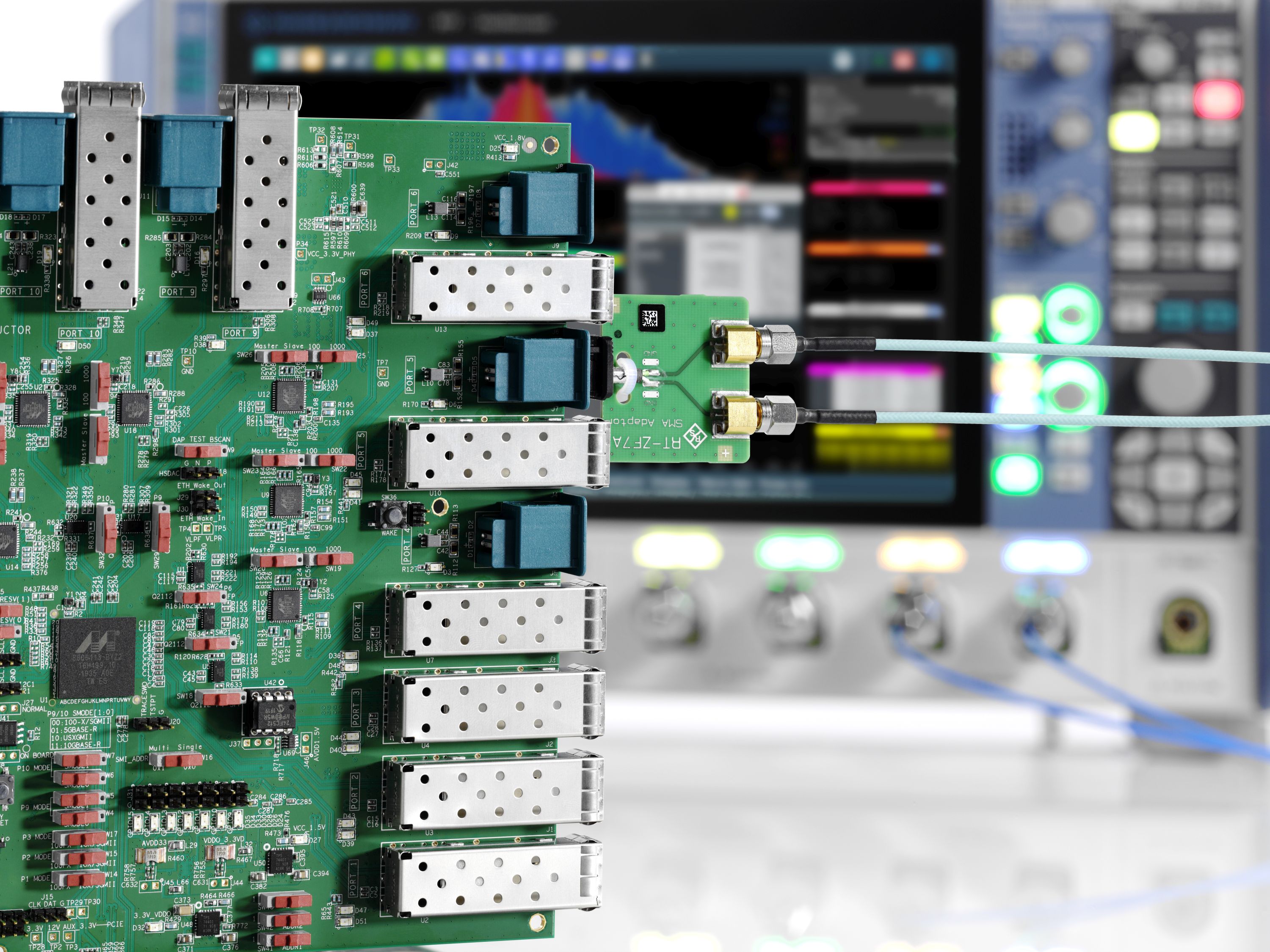 The new K88 option for R&S RTO and R&S RTP oscilloscopes from Rohde & Schwarz enables compliance testing on the next evolution of the automotive Ethernet standard. The new IEEE 802.3ch standard addresses the need for high speed networking and data transfers within the car. With the K88 software option, Rohde & Schwarz continues to lead the way as the test and measurement supplier for automotive Ethernet.
Most of the requirements for higher data rates stem from sensors like cameras around the car, 5G Telematic units (TCUs) and networking backbones for multiple domain controllers. MultiGBASE-T1 Ethernet standard meets these needs by including 2.5G, 5G and 10G speeds. Compared to 1000BASE-T1, MultiGBASE-T1 uses PAM4 (4 levels) modulation with symbol rates of 1.4, 2.8 and 5.6 GHz. The Open Alliance TC15 PMA compliance test specification addressing this standard is still in a draft state.
With the new K88 option, R&S RTO and R&S RTP oscilloscopes now offer a full transmitter compliance solution for MultiGBASE-T1 based on the IEEE802.3ch spec for the PHY layer (layer 1). The solution comes in a modern user interface and is easy to use offering guided tests and a very comprehensive report.
Rohde & Schwarz offers a complete automotive Ethernet compliance test solution including using a vector network analyzer such as the R&S ZND for MDI return loss measurements. Control of the measuring instruments, calculation of the results and documentation can be automated with the R&S ScopeSuite test software. A test wizard guides the user step by step through the test procedure with illustrated instructions. Automatic test sequences allow for a fast, reliable test execution and minimize the probability for user error. A configurable test report documents the test results. R&S ScopeSuite is a standalone application that can run on the oscilloscope or a separate PC.
The R&S RTO-K88 and RTP-K88 compliance test software options for MultiGBASE-T1 are now available from Rohde & Schwarz. For more information about Rohde & Schwarz automotive Ethernet solutions, visit https://www.rohde-schwarz.com/_231834.html
Automotive test solutions – Test it, trust it.
As a leading global supplier of test and measurement software, instruments and systems, Rohde & Schwarz applies its market-leading technical expertise to develop innovative solutions through the entire automotive lifecycle from pre-development to production. OEMs, tier1s and chip suppliers around the world rely on the company's proven test solutions for automotive radar, connectivity, infotainment, high-performance computing and EMC. With innovative solutions for the development, integration and production testing of radar, Rohde & Schwarz act as a trusted partner for customers creating the next generation of ADAS / AD systems. The company's long-established expertise in wireless technology ensures robust connectivity in all standards from 5G and C-V2X to UWB, WiFi6 and GNSS. In-Vehicle Networks supporting the latest bus speeds and ECUs like high-performance domain controllers can be developed and debugged, complex EMI issues can be using the test equipment. With decades of experience in EMC testing, Rohde & Schwarz offers test and measurement equipment and customizable turnkey test systems for performing EMI and EMS measurements on vehicles and components in line with all major CISPR and OEM specific EMC standards. They support full vehicle antenna testing and also wireless coexistence testing with using own systems and instruments. The company also offers outstanding solutions for board level tests (ICT/FCT/BS) during ECU production. Partners and customers around the world use these test solutions to ensure automotive components and systems function correctly, coexist successfully and communicate with the outside world without errors.