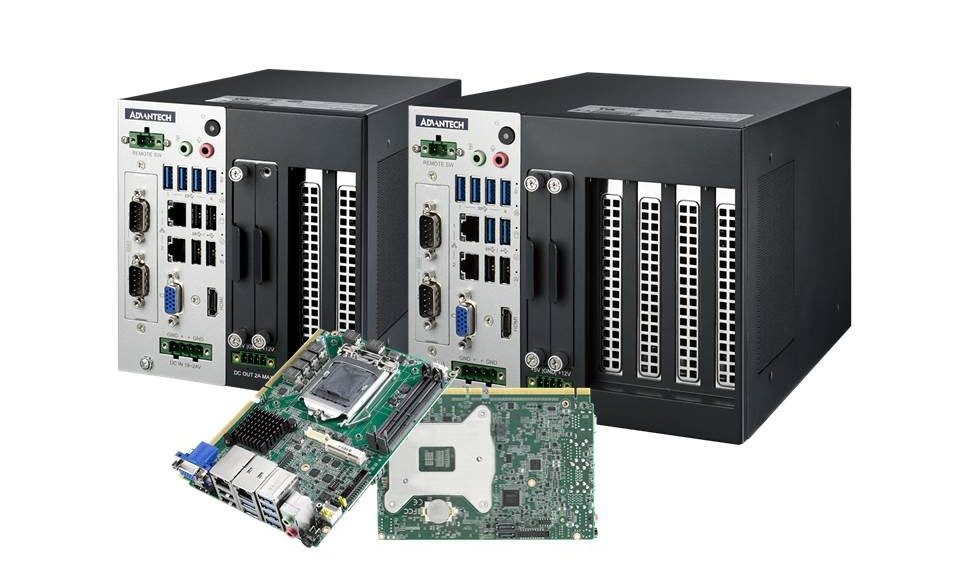 Advantech IPC-220/240 Ultra-Compact Modular System for Intelligent Manufacturing
Advantech IPC-220/240 Ultra-Compact Modular System for Intelligent Manufacturing
The Advantech IPC-220/240 ultra-compact modular system is powered by a 6th/7th generation Intel® Core™ i socket-type (LGA1151) processor with Intel® Q170/H110 chipset, equipped with 2/4 PCIe/PCI slots for integrating add-on cards, and compatible with Microsoft Windows 7/10 operating systems, IPC-220/240 provides the ideal system for traditional legacy control operations and industrial automation applications. Aimed at harsh industrial environments as well as in-cabinet installations with limited space, the IPC-220/240 terminal features a compact form factor and supports a wide operating temperature range (0 ~ 45 °C/32 ~ 113 °F). Because power distribution at intelligent factories tends to fluctuate, IPC-220/240 is compatible with 19 ~ 24 VDC input power, making it easy to be integrated in diverse cabinet infrastructures. Moreover, IPC-220/240 can also provide 5 VDC/2A and 12 VDC/2A power output to support another device and thus simplify cabling in the field.
Ultra-Compact System with Card Expansion for Powerful Application
Designed to function as the intelligent edge for manufacturing equipment, IPC-220/240 is an ultra-compact modular system (140 x 230 x 150 mm/5.5 x 9 x 5.9 in for IPC-220 and 180 x 230 x 150 mm/7 x 9 x 5.9 in for IPC-240) equipped with 2/4 PCIe/PCI slots for integrating diverse add-on cards, such as I/O cards, motion cards, vision cards, and GPU cards to support machine control and vision applications, or provide artificial intelligence for automated optical inspection (AOI) operations.
Easy Deployment with Flexible Power Design and Front-Facing I/O
To ensure easy deployment for IoT installations with limited cabling space and complex power requirements, IPC-220/240 supports a wide power input range of 19 ~ 24 VDC and features front-facing I/O for easy access. The IPC-220/240 terminal can also support another device with the provision of 5 VDC/2A and 12 VDC/2A power output, simplifying in-field cabling requirements. Moreover, the system's I/O interfaces, which include two GigaLAN, six USB 3.0, two USB 2.0, two serial ports, one Audio-In, and dual display outputs (HDMI and VGA), are all located in the front panel for easy access and space savings.
Fast Configuration with Local Service
The IPC-220/240 system configuration, processor, I/O, and additional peripherals can be customized with Advantech's Configure-to-Order Services (CTOS). Advantech CTOS is an eBusiness service that offers customers web-based configuration tools, manufacturing services, and global support for producing custom solutions. Indeed, Advantech CTOS serves as an easy-to-use, one-stop online shop with comprehensive product offerings and expert advisors.
Key Features
6th/7th gen Intel® Core™ i socket-type (LGA1151) processor with Intel® Q170/H110 chipset
3 x independent displays (third display output (DP) via optional cable)
2 x GigaLAN and 6 x USB3.0 (Q170)/4 x USB3.0 (H110)
2 x RS-232/422/485 and 2 x RS232 serial ports
2 x 2.5" HDD/SSD and 1 x mSATA
19 ~ 24 VDC input power range
Supports 12 V/5 V – 2A power output
Supports Advantech's iDoor technology
Versatile LED indicators show system status and alarms
Product Accessories
Mount bracket
4-pin Phoenix power connector
Remote SW 2-pin connector
DC-Out connector
Advantech's IPC-220/240 ultra-compact modular system is available for order now with minimum order quantity (MOQ) 1 piece at Aaronn Electronic. For more information regarding IPC-220/240 please contact the Aaronn sales team under info(at)aaronn.de or visit our website at www.aaronn.de.
Originalmeldung von pressebox.de